Repujado (Metal Embossing)
The 5 Acre Arts Marketplace is OPEN for business!
You will discover an eclectic mix of art offerings at the 5 Acre Arts Marketplace. New pieces will be offered for purchase as they are completed and I hope you'll find artwork that resonates with you. Inventory will be added to the marketplace as it becomes available.
Click on one of these links to access my artwork: Repujado, Kumihimo, and Handbound Journals.
Thank you for taking the time to visit, please check back often!
~lynda
P.S. Thank you for asking, but I am not accepting commissions at this time. My art pieces are all one-of-a-kind, no duplicates. If you see something you like, please consider a purchase. I appreciate your patronage and thank you for visiting 5AcreArts.com.
REPUJADO
The art of REPUJADO is a meticulous labor of love. Also known as metal embossing or metal relief, and always crafted by hand, REPUJADO is the working of metal to give volume and relief to the decorative design engraved on the metal.
Pronounced:
Ray-Poo-Ha-Though
_______________
PEWTER
Pewter, like fine silver, will naturally patina over time. To restore sheen, buff gently with a clean, dry cloth.
_______________
SHIPPING
In the United States:
Artwork and metal embossing tools will be shipped Priority Mail with signature confirmation at delivery.
Outside the United States:
Before purchasing, please contact me via email for current shipping rates, lynda@5AcreArts.com.
_______________
RETURNS
Metal Embossing Tools
NO RETURNS - All Sales Final.
Artwork - If you are not satisfied with your order for any reason, please let me know within three (3) days of the artwork's arrival, lynda@5AcreArts.com.
YOU (the Customer) are responsible for shipping the artwork back to me and paying the return shipping fees. The Artwork must be returned to me in its original (undamaged) condition.
I will refund the amount you originally paid for the artwork (not including shipping) IF the artwork is returned to me in its original (undamaged) condition. Your refund will be processed immediately upon my receipt of the artwork being returned.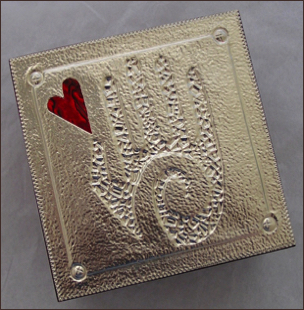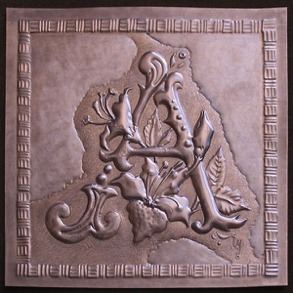 Botanical "A"
6"H x 6"W hand-embossed, high relief Pewter artwork mounted on the lid of a red, wooden cigar box (not shown)
7"H x 9"W x 2"D. Intricate embossed detail.
$$$$
SOLD!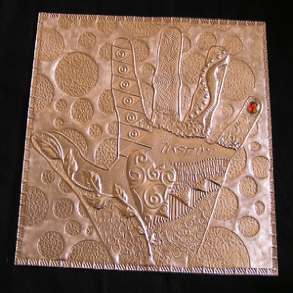 "THE ARTIST'S HAND"
7.5" x 7.5" Hand-embossed Pewter, high relief sampler mounted in a black and silver, shadow box frame (not shown) 11" x 11"; ready to hang. Intricate embossed detail.
$$$$
SOLD!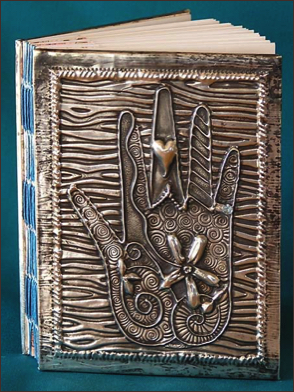 "THE HAND BOOK"
Hand-bound Journal with hand-embossed Pewter covers; high relief. Blank, unlined parchment pages. Ribbon bound. Opens easily and lays flat for easy access to pages. 5"H x 3.75"W x 1"D
One of a kind.
$325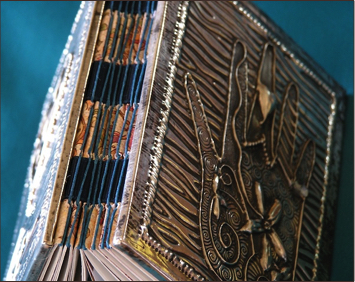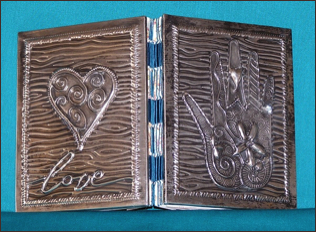 This is just one section of my Marketplace. For more handmade artworks, click on the links that follow to visit: Handbound Journals, Kumihimo, and Repujado. I appreciate your interest!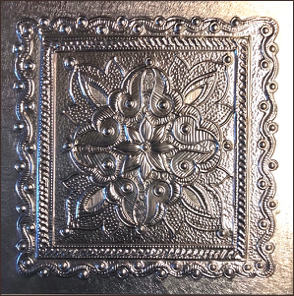 "MANDALA"
Hand-embossed, high relief Pewter adorns the lid of this shabby chic wooden box; lined with beautiful handmade paper.
8"H x 8"W x 3"D
$$$$
SOLD!