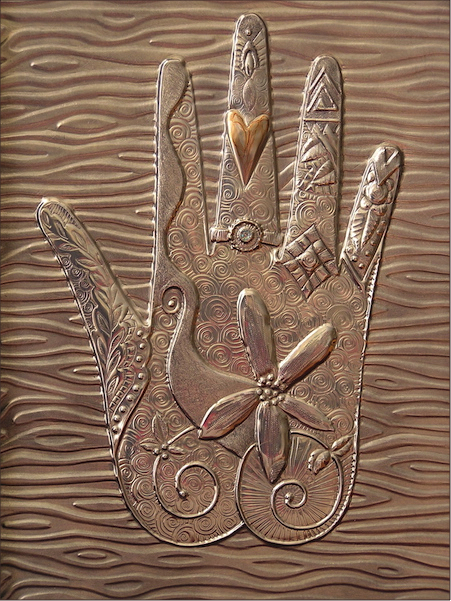 A Few Artworks - Past and Present
Lynda Abare is a creative catalyst; an accomplished artist and teacher in a variety of media including Kumihimo, chainmaille, hand-bound journals, mixed media, and Repujado. She is a Juried Artist and active member of the Sonoran Arts League in Cave Creek, and a newer member of Ground Floor Artists in Surprise, Arizona.
In 2005, Lynda was certified as a Repujado artist and teacher by MercArt USA. If you are unfamiliar with the art form, you are in for a treat! Repujado (pronounced ray-poo-ha-though) is the fine art of metal embossing.
Locally, Lynda has taught and exhibited at ART Unraveled, an annual mixed-media art retreat held in Phoenix, Arizona as well as the Hidden in the Hills Artist Studio Tour, an annual event in Cave Creek, Arizona. You can visit her in November at Robin's Nest Studio on Surrey Drive in Cave Creek - just off Cave Creek Road, approximately 1 mile north of Carefree Hwy.
For several years Lynda took her love for metal embossing and the paper arts "on the road". John C. Campbell Folk School in Brasstown, North Carolina quickly became one of her favorite places to teach and attend classes. Lynda was scheduled to teach at the Folk School in 2020 and 2021 but COVID restrictions kept her from traveling. More information as it becomes available.
Lynda teaches a variety of classes locally in North Scottsdale at the Holland Community Center, private studios, and occasional classes in Phoenix, Flagstaff, and Tucson. Check Lynda's teaching schedule HERE.
The fine art of metal embossing.
Thank You for stopping by!
If you enjoyed your visit to the Gallery, please consider a look around the 5 Acre Arts virtual Marketplace. Artworks are one-of-a-kind and available for purchase. Click on the links that follow for more handmade artworks: Bookbinding, Kumihimo, and Repujado. I appreciate your interest!