The 5 Acre Arts Marketplace is OPEN for business!
You will discover an eclectic mix of art offerings at the 5 Acre Arts Marketplace. New pieces will be offered for purchase as they are completed and I hope you'll find artwork that resonates with you. Inventory will be added to the marketplace as it becomes available.
Click on one of these links to access my artwork: Repujado, Kumihimo, and Handbound Journals.
Thank you for taking the time to visit, please check back often!
~lynda
P.S. Thank you for asking, but I am not accepting commissions at this time. My art pieces are all one-of-a-kind, no duplicates. If you see something you like, please consider a purchase. I appreciate your patronage and thank you for visiting 5AcreArts.com.
BOOKBINDING
Handbound books and journals.
My artist-self seeks expression with hand tools, a camera, and oftentimes a computer and printer; creating hand-bound books and journals embellished with hand-embossed metal. My pages are sprinkled with calligraphy, haiku, and photographs.
_______________
SHIPPING
In the United States:
Artwork and metal embossing tools will be shipped Priority Mail with signature confirmation at delivery.
Outside the United States:
Before purchasing, please contact me via email for current shipping rates, lynda@5AcreArts.com.
_______________
RETURNS
Metal Embossing Tools
NO RETURNS - All Sales Final.
Artwork - If you are not satisfied with your order for any reason, please let me know within three (3) days of the artwork's arrival, lynda@5AcreArts.com.
YOU (the Customer) are responsible for shipping the artwork back to me and paying the return shipping fees. The Artwork must be returned to me in its original (undamaged) condition.
I will refund the amount you originally paid for the artwork (not including shipping) IF the artwork is returned to me in its original (undamaged) condition. Your refund will be processed immediately upon my receipt of the artwork being returned.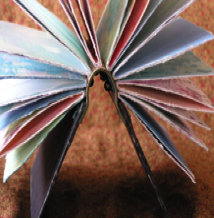 Hand-bound Books and Journals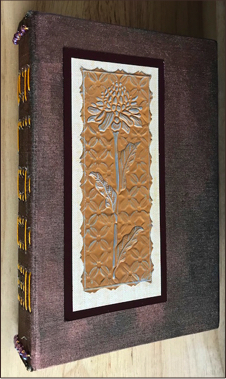 "BLOOM"
Hand-bound Journal, 7 signatures and 7 of the Artist's "desert bloom" photos. 140 "confetti paper" pages, blank and unlined. Hand marbled endpapers. A hand- embossed metal embellishment graces the cover. Custom longstitch binding spells out the word "BLOOM" on the spine.
8.5"H x 5.5"W x 1.25"D
One of a kind.
SOLD!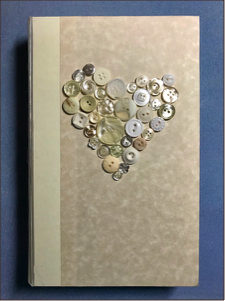 "CHERISH"
Hand-bound Journal. 6 signatures and 6 of the Artist's favorite photos, plus 96 blank and unlined pages just perfect for journaling. Gracing the cover, a heart created with buttons from grandma's button jar. Custom longstitch binding spells out the word "CHERISH" on the spine.
9.5"H x 6"W x 1.5" D
One of a kind.
SOLD!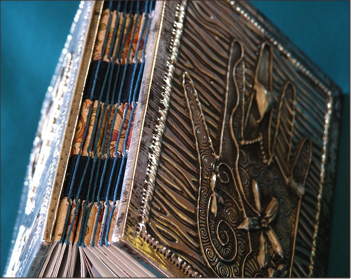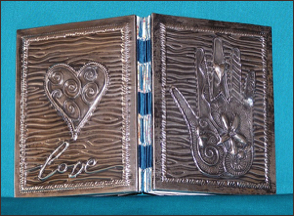 "THE HAND BOOK"
Hand-bound Journal with hand-embossed, high relief Pewter covers. Blank, unlined parchment pages. Ribbon bound. Opens easily and lays flat for easy access to pages.
5"H x 3.75"W x 1"D
One of a kind.
$325